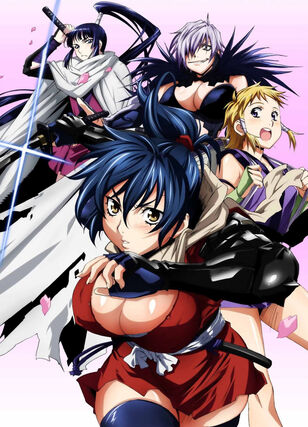 Manyuu Hikenchou (Manyū Hiken-chō) is a Manga series illustrated and written by Hideki Yamada. It also has an Anime adaptation.The manga began serialization in 2005 by Tech Gian, and in 2011 Tech Gian annouced that an Anime adaptation was in the works by Hoods Entertaiment.
Overview Edit
In a reign ruled by the Tokugawa shogunate, breasts mean everything. Those who have breasts are guaranteed wealth and popularity. The women who lack them are not considered "human". Members of the ruling Manyu Clan help raise future big breasted women. Written on a secret scroll possessed by the clan, there are said to be various techniques on how to grow big and beautiful breasts. Chifusa Manyu is to be successor of the clan. However, she takes the secret scroll and runs away with it, hoping to fight against the cruel world that the Manyu Clan has created.
Main Characters Edit
Chifusa Manyuu (Manyū Chifusa) : The main protagonist of the series.
Kaede: The cheerful sidekick to Chifusa, and follows her throughout the series.
Kagefusa Manyuu (Manyū Kagefusa) : Chifusa's sister and one of the primary antagonists of the series.
Muneyuki Manyuu (Manyū Muneyuki) : Chifusa's brother and a secondary antagonist.
Ouka Sayama (Sayama Ouka) : A Manyuu assassin and bodyguard of Muneyuki sent to chase Chifusa.
Kokage : Kagefusa's sidekick, who is a parallel to what Kaede is to Chifusa.
Munenori Manyuu (Manyū Munenori) : The Lord of The Manyuu Clan, and Ruler of Japan, as well as Chifusa, Muneyuki, and Kagefusa's father. He is the series main antagonist.
Kyoka Manyuu (Manyū Kyoka) : Chifusa's older sister, who is calm compared to the rest of her family.
Hatomune Mie (Mie Hatomune) : A feudal lord of a Japanese province who helps Chifusa and Kaede througout the series.