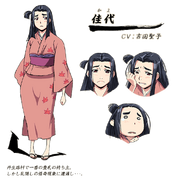 Kayo is the contestant whose place Chifusa took for the Breast Swing Festival. She was going to compete against Toyo, but her breasts were stolen, as she was a victim of the Breast Disappearance incident in her region.
Appearance
Edit
Kayo is only seen wearing a bright yellow kimono and a pink kimono with red leaves on it. She also has part of her hair in a short pigtail.
Personality
Edit
Kayo seems to be happy and competitive, as she enthusiastically enters the Breast Swing Festival for her village. However, after her breasts get stolen, she becomes saddened and dispirited.
She is voiced by Seiko Yoshida.